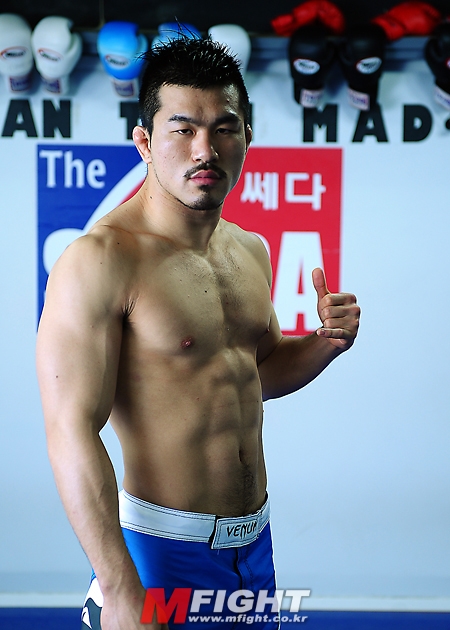 Robin Williams:
I want to be more talented than you.
Hillary Rodham Clinton:
I want to have more ability than you.
William H. Gates:
I want to be richer than you.
These aren't the typical things you might read on the header of an MMA fighter's blog, but
"Wolverine" Bae MyoungHo
is far from typical.  He has a charisma that fills up a room without any pretense; he's confident without being cocky.  His fight record attests to an uphill battle with cannonballs being shot at him.  He is as entertaining in the ring as he is outside of it.  And he's an underwear model.
Bae instantly made himself a crowd favorite at the first Legend FC event in January of 2010 before he even set foot in the ring.  His entrances are now anticipated for the energy and build up they bring.  From the moment Bae takes the fighter's platform, he commands your attention: he saunters up the steps, waits for all eyes to be turned in his direction, throws he head back and and lets out his Wolverine's howl.  Then he smiles as if to say, "Nah, I'm only kidding," and exuberantly skips down the runway trying to tag every outstretched hand from the audience.
Inside the ring, Bae's a different animal altogether.  His smile instantly disappears and he is all business.  His eyes find his opponent's and they never leave – take a look at his pictures on his Legend FC profile as proof.  He will stand and trade punches, can throw any kick at any time, has incredible takedowns, and brute strength submission defense.  On the ground, Bae's top position and ground and pound are as calculated and dominating as his stand up game  How does he prefer to finish a fight?  "I prefer a submission," he answers, surprisingly.  "But I don't care, as long as the audience enjoys my performance."
Bae didn't take up MMA with dreams of championship belts and fame.  He was introduced to it at a very critical point in his life, and perhaps that is what has made him so dedicated and driven.  Bae's life was turned upside down by two tragedies in his late teens: his brother's death and his mother succumbing to cancer.  It drove him to drink – hard – and he didn't stop until a friend introduced him to the sport.  Since that moment, he turned his life around and dedicated himself to training one hundred percent.
Part of the impetus was his coach, Team MAD's founder Yang SunHoon.  Coach Yang believes that respect makes the system run smoothly. So he says the first aspect he looks at from a fighter is their personality; to him, good character and politeness are priority.  He says that Bae is the "ambiance maker" of the gym; he makes the teammates happy.   Kim "Stun Gun" DongHyun is the strict "older brother" that everyone looks up to.  Coach Yang credits Kim much for the continued success of the gym, both in finance and in motivation.
Coach Yang's success is also attributed to his worldly view.  He understands that western countries have special trainers for each element of MMA; he respects Greg Jackson's ability to create a big picture and assign the details to individual coaches.  Coach Yang admits it is difficult for him to have this in a climate in which he feels MMA isn't booming, but he has been able to achieve success.  He tries to be the cornerman at every one of his team's fight, and to date that's over three hundred.  Thus from UFC fighter Kim DongHyun to the youngest professional fighter Yang HeeJun he has been able to build and grow one of South Korea's strongest teams.
One little side note: the name Team MAD originally was and obscure reference from a manga called the Crows.  Now it stands for Monstrous And Dangerous.
Fighting!  The MARS years, 2006-08
In Bae's debut one the first MARS card, he was, quite literally, thrown to the wolves.  His opponent, Izuru Takeguchi, was not only a division above him in weight, but was also an established fighter of ten years with 17 wins to his credit over opponents like Nate Marquart, Chris Lytle, Martijn de Jong, and draws with Eiji Ishikawa and Ryuta Sakurai.  Just as name-stacked as Takeguchi's past, so was the inaugural MARS card: Yuji Hoshino, Thales Leites, Vitor Robiero, Eiji Mitsuoka, Rodrigo Gracie.  Bae's first fight ended in the first round, and not in his favor.
He came back quickly in two months, and was able to score a win against a green opponent, but in his third fight was thrown back in with not a wolf, but a bear: a natural 93kger Daniel "The Gladiator" Tabera.  Fighting in another stacked line up after Carina Damm and Eddie Alvarez, Bae was able to hang with Tabera for two full rounds, but was caught with a smothering north-south choke under a minute into the third.
Undaunted by his 1-2 record, and in just two months again, Bae slammed right back into the final bout of his first year in the ring, the Middleweight tournament at MARS 5.  He was faced with a true middleweight, Bryan Rafiq, and the fight went the full three rounds.  The decision went to Rafiq, which catapulted him to the tournament finals against Bae's previous opponent, the winner of the tournament Daniel Tabera.
That was Bae "Wolverine" MyoungHo's first year of competition.  Did he get his nickname from being like the small, ferocious animal that never backs down?  "No, it was the beard," he jokes.  "Now I think it would be a jinx to cut it!"
Bae turned his luck around when he fought – and won – four more times for MARS.  He back-to-back handed JMMA scene stalwarts Koike Hidenobu and Ryo Seiki  unanimous decision losses, triangle choked Anderson Sato, and gave a career sendoff to Inoue Yuki via majority decision.  He also fought in the first TK The Khan that year, and took Eric Oganov the full three rounds, winning by unanimous decision.
"I want to be the Kim YuNa (Olympic figure skater) of MMA," Bae proclaimed.  After the laughter died down, he explained, "Show a lot of techniques, and be exciting to watch."
During his first few years, he chose the Japan-based MARS promotion instead of the South Korean Spirit MC.  "I wanted to learn technique from foreign fighters," he explained.  "If have a chance with a Korean fighter, I would choose Lim "The Korean Icepick" JaeSuk, the Spirit MC Champion."  But Lim hasn't fought since 2008, and Spirit went under.  "Maybe because of me?" Bae laughs.


M-1 Challenge, DEEP and DREAM
In 2009, Bae was chosen to be on Team Korea in the M-1 Challenge against Team Imperial.  Suddenly facing an opponent he knew and had defeated by decision, Bae took his game up a notch.  In the second round, he attempted a flying knee, and executed a trip, hammerfisting Oganov forcing him to give up his back, and finally ended it by sinking a strong rnc at just two minutes in.  His stand out performance helped to edge Team Korea to victory.
After his seventh win, he was asked how he felt about his career.  In his typical banter, he replied, "I still have far to go before I'm Kim YuNa, but maybe I can overtake Park TaeHwan (Olympic swimmer)."
Remember the M-1 Challenge exhibition match between Fedor and Shinya Aoki?  Bae was there too.  Representing Team Korea against Team USA West, Bae found himself matched to former Affliction fighter Fabio Nasciento (not the underwear model of the same name), whose opponents were a list of notables: Santos,  Damien Maia, Toquinho, Lindland, Batata Silva.  But the fight went the full two rounds; neither was able to finish on the feet nor on the ground.  The decision was in Nasciento's favor.  In a rare moment of terseness, Bae states, "I don't think I lost to Fabio.  I think it was a bad decision."
Bae went on to seal a win at DEEP 42 Impact against Tsukno Yusaku, and graduated very quickly to the A-level DREAM.  The promotion's first cage event, DREAM 12 – Cage of the Rising Sun, was set for October 25th, 2009.  Asked if he likes the cage or ring better, "I don't mind whether I fight in the cage or in the ring," he states, "Because each has attractive pros and cons."
Then on October 19th, one week before the fight, DREAM announced a change to Bae's match: it would be a non-title bout with Marius Zaromskis, the current DREAM Welterweight Champion, who'd earned it by defeating Ikemoto, Mach Sakurai, and Jason High – the last two establishing his head kick KO ability.  When Bae walked into the cage that night, he was also on the receiving end of the signature Zaromskis move – just 19 seconds in.  Bae has a lot to say about the shortest fight of his career.
"My toughest opponent was Zaromskis," Bae states.  "He was the defending champion and he had a lot of experience.  It was tough because I usually analyze and study my opponent, and then train according to him.  So, therefore, I wasn't ready.  But I learned so much from the fight."  Without being prompted for the obvious, Bae stated, "I want to face Zaromskis somewhere hopefully, and take revenge."
LEGEND FC
In 2010, Bae made his appearance in the inaugural event of Legend FC.  In an interview announcing his new competition, he said "I really like Bruce Lee – I want to show I am like Bruce Lee to HK!"
His first match was with AACC's Yoshitomo Watanabe, and he took the DEEP mainstay not quite two rounds before submitting him with a triangle choke.
Bae's second pairing was against top Australian team Integrated MMA's Matt Cain, Warrior Realm Welterweight Champion.  For three rounds, he dominated with single legs and slams, knees on the ground and knees standing, and a superior strength in the clinch and on top on the ground that the NZ-born Aussie transplant had very few responses to, especially since he'd broken his hand.  The decision went to Bae unanimously.
At Legend FC 3, Bae was matched against ATT black belt and top-ranked Muay Thai boxer Adam Khayoom.  Once again the fight went three full rounds.  Bae's double leg takedowns and strength on the ground surprising took away the black belt's tools with ease.
A shoulder injury kept Bae from competing for the first Legend FC title.  Instead, Rodney Macswain took Kim Hoon the full three rounds to win the honor for himself.  Once healed, Bae challenged for the Welterweight Championship at Legend FC 5.  Macswain stood his ground for the better part of the first round as the two traded, but once he tagged Bae with a good combination, the challenger decided that was enough of that.  The final two rounds showcased Bae's ability to bring his opponents – now seemingly any of them – to the ground and beat them up.  Finally he won the championship belt he had long been seeking.  Whether it was emotions or exhaustion, he could barely get out the words to express his satisfaction.
Bae's first title defence will come on February 12th at Legend FC 7.  He will be facing the top contender for the right to wear the belt, China Top Team's Li "The Leech" JingLiang.  Li has won three out of four battles in the Legend FC ring, with those wins coming by TKO, submission and a full-distance very close war with Alex Niu his last time out, so he has proved he has the ability to play wherever Bae takes the game.  As both of these fighters have come up through the ranks of Legend FC from its beginnings as a fledgling organization to one with a global ESPN broadcast contract, this will be a fight to set the standard for MMA in Asia.
When asked about which organization he's fought for that he likes the best, he's typically amicable.  "I have liked all of the promotions I've fought for.  I'm fighting for Legend FC right now.  Legend FC is my favorite organization at this moment."
What does he think of Li JingLiang's style?  "I am not interested in Li JinLiang," he dismisses.  "I am on a different level.  I'm finalizing my training camp. I've just started my diet.  I'm at my best condition."
"I will dominate in every aspect of the fight."
배명호, 

Legend FC Welterweight Champion